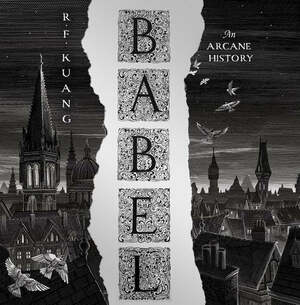 Giveaway
19 Nov 2022 - 18 Dec 2022
Prizes: Audio (250 copies) — Available in United Kingdom
Giveaway closed
fiction
fantasy
historical
literary
challenging
dark
emotional
medium-paced
21 hours, 45 minutes | first published 2022
Prizes: Audio (250 copies) — Available in United Kingdom
fiction
fantasy
historical
literary
challenging
dark
emotional
medium-paced
21 hours, 45 minutes | first published 2022
xigxag
is an award-winning UK
audiobook app
offering great prices, no subscriptions and exclusive access to the listen-and-read x-book®.
We're thrilled to offer the Storygraph community the chance to win an x-book® copy of Babel by R.F. Kuang on xigxag. 💜
An x-book® is an audiobook and ebook in one amazing integrated format that enables brilliant features for listeners: see illustrations and diagrams (including the maps featured in
Babel
), see the structure of dialogue, look up words, search for something you missed or want to hear again, switch to reading, or read along. 
We're an independent business based in Cornwall and London UK, and we put listeners at the heart of everything we do. xigxag offers an exciting alternative to big tech audiobook platforms, and we are proud to be both B Corp™️ certified and an Ethical Consumer Best Buy. 🌎
Enter our giveaway to win a
free x-book®
copy of
Babel
on xigxag. You can also download xigxag for free on the
App Store
or
Play Store
. All audiobooks are £7.99 or less including our x-book® selection, with no subscription required.
Book description
Traduttore, traditore: An act of translation is always an act of betrayal. 1828. Robin Swift, orphaned by cholera in Canton, is brought to London by the mysterious Professor Lovell. There, he trains for years in Latin, Ancient Greek, and Chinese,...

Prizes
Format: Audio
Number of copies: 250
Delivery: Free Download via xigxag app
Eligible countries: United Kingdom